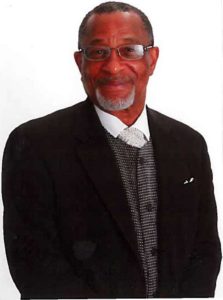 Bishop Claude Calvin Turner is the seventh child of the late Bishop Fred Lee Turner Sr. and Mrs. Lillie Ward Turner of Winston-Salem, NC. He was born in Walnut Cove, NC, but moved to Winston-Salem with his family at an early age. He attended Forsyth County Schools, graduated from Carver High and later attended Forsyth Technical Institute in Winston-Salem NC. He joined the United States Marine Corps where he served a tour in Vietnam and was awarded with a Purple Heart. He received an honorable discharge after returning home.
Bishop Turner was employed by Deere Hitachi Machinery Corporation as a lead tech and retired in 2011 after 20 years of faithful service.
In 1975, Bishop Turner answered God's call and entered into the ministry. He was ordained Elder under the body of the United Bibleway Churches of Christ. His first church was in South Carolina but in February 1981, he decided to move back to Winston-Salem and open a church in a small storefront on Waughtown Street. He named it Calvary Hill Apostolic United Bibleway Church. It wasn't long before the membership outgrew the small space and God blessed the church with a larger building at 2411 Urban Street where they relocated to in October 1982. The church later received its' own charter.
In 1992, Bishop Turner met his love, Virginia M. Williams. They were married on May 6, 1995. Together, they have four children and 12 grandchildren.
In July 1996, Elder Claude C. Turner was ordained a Bishop by the late Bishop Alonzo McCloud, Pastor of Tabernacle of Faith Church in Winston-Salem and Reverend Lula Williams, Pastor of Hartland A.M.E. Church in Morganton, NC. After his ordination, Bishop Turner renamed the church to Calvary Hill Church of Greater Deliverance, Inc. In 1997, the church moved to a larger building at 4951 Manning Road in Winston-Salem, NC, which is their present edifice.
Calvary Hill has incorporated Believer's Tabernacle of Greater Deliverance in Baltimore, MD.
The vision for the church is that there is a ministry for everyone and everyone has a ministry…"Great in Counsel, Mighty in Work" Jeremiah 32:19.